By Lise Guénette, N.D.A.
Member of the Association of naturopathes agréés du Québec
Castor oil is a unique vegetable oil that deserves to be rediscovered. It is used externally, in massages or as a poultice, for its anti-inflammatory, pain-relieving, analgesic, antifungal and lymphatic decongestant action. Internally, even if it is known to relieve constipation problems, caution is advised. Other natural solutions exist and should be preferred.
A little history
In Egypt and India, as far back as 1550 B.C., there are records of castor oil therapies. In the Middle Ages, this ancestral knowledge spread throughout Europe and it is at this time that it took the name of Palma Christi.
Closer to home, it was in the early 20th century that the famous American medium Edgar Cayce made known the main uses of castor oil.
Origin
Castor oil is extracted from the small seeds of Ricinus Communis, a herbaceous perennial plant with a woody stem. It is produced in India in the highest quantities. Ricinoleic fatty acid is responsible for many of its therapeutic properties. It is preferable to choose certified organic castor oil.
Castor oil: a "must" in your medicine cabinet
Keep it handy as it is useful for relieving many ailments, including:
Arthritis : A massage of the painful areas with warm or hot castor oil provides appreciable relief. For better results, you can add a few drops of anti-inflammatory and analgesic essential oils, for example: wintergreen (gaultheria procumbens or fragrantissima), laurel (laurus nobilis), peppermint (mentha x piperita), lemon eucalyptus (eucalyptus citriodora), etc. If the area to be treated is not too large, use a poultice instead.
Cellulite : A daily massage of castor oil with a few drops of anti-cellulite essential oils helps fight cellulite by stimulating the lymphatic system. Choose among the following essential oils: grapefruit (citrus paradisii), lemon (citrus limonum), Atlas cedar (cedrus atlantica), cypress (cupressus sempervirens), lemon eucalyptus (eucalyptus citriodora), Italian helichrysum italicum.
Cuts and scratches: Applying castor oil directly to the cut will quickly stop the bleeding and soothe the pain.
Plantar fascilitis and Lenoir's spine: Every night and until improvement, for 45 to 60 minutes, soak the painful foot in a liter of warm water, to which you have added ½ cup (125 ml) of apple cider vinegar and ¼ cup (65 ml) of sea salt or Epsom salt. Then gently massage with castor oil, cover the foot with a stocking and keep it overnight.
Gout : Twice a day and until improvement, soak the painful foot in 3 cups (750 ml) of warm water with ½ cup (125 ml) of apple cider vinegar. Then apply a castor oil poultice and keep it on for at least 1 hour.
Hemorrhoids: Apply castor oil to the painful area, cover with a piece of flannel, cotton or gauze to protect clothing and sheets. Keep overnight. Quick relief.
Heavy legs and swollen ankles: Massaging swollen legs and ankles with warm castor oil activates lymphatic circulation and helps to unclog tissues. For more effectiveness, add a few drops of cypress essential oil (cupressus sempervirens).
Diabetic Neuropathy : The feet of a person with diabetes need to be protected. Neuropathy is a painful condition that affects the nerves in the extremities, making the feet more susceptible to infection. To relieve pain, protect the feet from infection and improve microcirculation, make it a habit to massage your feet every night with castor oil.
Tendonitis, bursitis, sports injuries and muscle pain: The castor oil poultice or the green clay poultice with castor oil and anti-inflammatory essential oils relieves pain and inflammation with amazing speed. Keep in place for several hours or overnight and repeat as needed.
Mom and baby
Keep it handy as it is useful for relieving many ailments, including:
Baby's Colic: Massaging baby's tummy clockwise with a little castor oil helps relieve baby's colic.
Breastfeeding: Making a poultice or massaging the breasts with castor oil helps to unclog them and promotes milk production.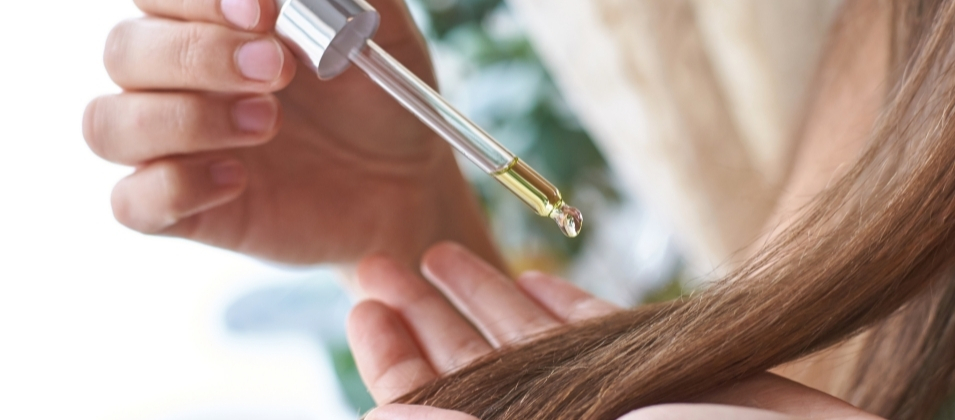 Skin, hair and nail care

Dry skin, cracked heels, chapped skin, burns, psoriasis, insect bites, itching, sunburn : To relieve these skin problems, castor oil can be used as a massage or a poultice.
Fine, dry, brittle hair: This highly nourishing oil deeply moisturizes the scalp, nourishes and densifies hair from roots to ends. Mix castor oil with sweet almond or olive oil, massage into your scalp, wrap your hair in a towel and leave on for one to three hours. For optimal care, leave on overnight (protect your pillow). Rinse with warm water and shampoo, sometimes two may be necessary.
Skin care: Castor oil is very hydrating. Over time, it can help fade acne marks, stretch marks, fine lines and wrinkles.
Brittle nails : Using a brush, apply a mixture of 50% castor oil mixed with 50% olive oil to nails - or soak your nails in this oil mixture.
Verrue : Thoroughly clean the area to be treated with baking soda diluted in a little water. Then apply a warm-warm castor oil compress. Wrap with plastic wrap and keep for at least one hour.

How to prepare and use a castor oil poultice:

In a saucepan or double boiler, heat the castor oil over low heat.
Soak a piece of cotton or flannel at least 3 to 4 layers thick with hot oil (be careful not to burn yourself).
Place the cloth soaked in hot oil on the area to be treated and cover with plastic wrap.
Keep the poultice warm by applying a hot water bottle or a magic bag. Keep in place for at least one hour.
The poultice can be reused up to 5 times. Store in a plastic container at room temperature. Add a little hot oil when you reuse it
Clean the skin with water to which you have added baking soda: 1 tablespoon (15 ml) in 2 cups (500 ml) of water.




Thanks to our grandmothers!